Vertical monitors are gaining popularity among professionals, entertainers, gamers, and other home users. The two underlying reasons for the popularity are, firstly, there is a lot of content being produced in portrait mode due to smartphones, like YouTube Shorts, Instagram, Pinterest, etc. Secondly, some professionals find it more efficient to work on a vertical monitor. Also, it is easier to read and write (type) in portrait mode, as minimal horizontal space is wasted, and hence about 57% more text can be read without scrolling.
The best vertical monitors can be identified once you understand your own requirement and objective of using a vertical monitor. The most popular reasons for using a vertical monitor include writing, reading, graphic designing or photo editing, video editing, software programming, application testing, etc. They are widely used as an external display or used in a multi-monitor setup, where a series of monitors are connected, splitting the display among these monitors. Whatever your objective is, you will be able to identify the best vertical monitor that addresses your need.
Dell
Dell UltraSharp U2720Q 27 (4k)
Resolution: 3840 x 2160
Aspect Ratio: 16:9
Size: 27"
Connectivity: DisplayPort, HDMI, USB ports, and Audio Line out
LG
LG 27UN850-W Ultrafine UHD
Resolution: 3840 x 2160
Aspect Ratio: 16:10
Size: 27"
Connectivity: HDMI, 2-USB Ports, Display Port 1.2, USB-C with 60W Power Delivery
Samsung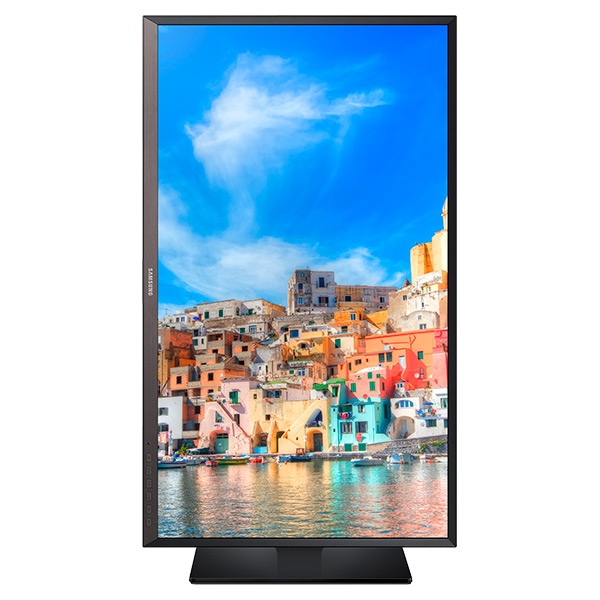 Samsung SD850 32″
Resolution: 2560×1440
Aspect Ratio: 16:9
Size: 32"
Connectivity: HDMI, Display Port 1.2, USB 3.0 ports, Lan Port, USB Type-C
What to look for in a vertical monitor:
Before you make your decision it is important to understand what essential characteristics are required to look for in a monitor that will make up for the most suitable vertical monitor.
Tilt/Rotation/Height Adjustability:

Most important aspect of a monitor to use as a vertical monitor is its ability to rotate to 90 degrees and adjust its height and tilt to the most suitable angle.

Type of Mounting: For adjustability feature type of mounting plays an important role. Most monitors come with a self-mounting stand, you should check whether the stand allows for the required adjustability options. Also, you should check if it can be used with other wall mounts or monitor arms. It should have VESA compliant holes at the back to use on all types of standard mounting.
Display Size and Aspect Ratio:

The next important thing we suggest you check is its display size and aspect ratio. If you want to use a monitor in a vertical setup it should be chosen based on the space you have. The most commonly used monitor aspect ratio for vertical monitors is 16:10, also known as a wide monitor display, other commonly used aspect ratios are 16:9, 21:9, and 4:3.

Viewing Angles and Panel Technology:

The LCD panel displays the most widely used is IPS (In-Plane Switching) panels, which is the best quality available and it is also very friendly to eyes and offers the best viewing angles. Viewing angle is very important in a vertical setup, as you will be changing the orientation and the height of the monitor will be elongated. In such a setup if the viewing angle is not good then you will see the top portion of the monitor display differently from the bottom portion. The other acceptable panel technology in terms of color reproduction and viewing angles is Vertical Alignment (VA) technology which includes VA, S-PVA, and MVA

Response Time:

It defines the time (milliseconds, ms) taken by the monitor to change and display the change in color when the image or frame changes. This is very instrumental in displaying the videos and high-motion games clearly without lag.

Resolution:

Resolution refers to the number of pixels used in the monitor. For example, a resolution of 1280 × 1024 means that it has 1280 pixels in width and 1024 pixels in height. More pixels mean a more detailed and clearer picture.

Refresh Rate:

It is the frequency of how fast the data changes, which determines how smooth the frame on the display changes. Higher refresh rates are required for gaming, as well as for application that requires faster scrollings (like on YouTube video browsing). For basic applications like reading, writing, graphic designing, or coding, a 60Hz refresh rate is fine. In some good monitors, you can change the refresh rates from the monitor settings menu.

Connection Port:

There are different types of ports connectivity, like HDMI, USB-C, DVI, VGA, etc. The traditional and widely popular monitor ports are VGA and DIVI. But more modern and high-end monitors use HDMI ports as it is a multimedia-friendly port, using which video and audio can be transmitted through the same cable. While purchasing a monitor, please check what type of connectors your CPU allows. Though you can change it using an additional port or card added to your CPU.
Top Vertical Monitors:
Our Top Pick
Resolution: 3840 x 2160
Aspect Ratio: 16:9
Size: 27"
Connectivity: DisplayPort, HDMI, USB ports, and Audio Line out
Dell UltraSharp U2720Q offers a 4K UHD and LED Backlit LCD IPS display that produces exceptional visuals with vibrant colors across a wide viewing angle. The monitor is energy star certified and also climate pledge friendly with EPEAT certification, which means that this monitor uses energy very efficiently. The 4K UHD screen mode offers a brightness of up to 350 Nits. You will be able to use this monitor as a primary as well as a secondary monitor seamlessly. It has a contrast ratio of 1300:1 with a 99% sRGB color gamut at a refresh rate of 60 Hz.
We were able to seamlessly use this monitor with a wide variety of devices, as it offers great connectivity with DisplayPort, HDMI, USB ports, and Audio Line out. This monitor comes with peace of mind as it comes with the Security Lock Slot. It is available in a 27-inch 2K Quad HD, which also offers a very sharp and clearer display. The metallic stand allows it to rotate 360 degrees easily.
Additional Features:
Adjustments – Height, Tilt, Swivel, Pivot

Vesa Mount Compatible

Anti-glare

Security Lock Slot

Energy Star Certified

99% sRGB color gamut

Sleek design

Supports virtually seamless multi-display setups

Vibrant colors across a wide viewing angle

Climate Pledge Friendly

Response time: 8 ms (normal)

Peak brightness: 350 Nit
Top LG Vertical Monitor
Resolution: 3840 x 2160
Aspect Ratio: 16:10
Size: 27"
Connectivity: HDMI, 2-USB Ports, Display Port 1.2, USB-C with 60W Power Delivery
If you are looking for something sleek, this one is the best choice with a seamless, borderless design. The IPS Display works great on this 27-inch, 3840 x 2160 ultra HD display. The connectivity options are also great, with USB ports, HDMI, and Display Port 1.2. The adjustable stand looks great and is very efficient in adjusting its Height, Pivot, and Tilt range. This LG UltraFine display offers highly supreme and accurate colors, even at different viewing angles.
We were totally amazed by its impressive luminance with a peak value of 400 nits and levels of color and brightness adjustment at par with any other display. It is also a VESA-certified monitor. We suggest this monitor for photographers, gamers as well as graphic designers due to its color accuracy and distraction-free visual experience with its borderless design. Another feature that made us fall in love more with this monitor is its OnScreen control, which can be used to split-screen, save and use application presets, enabling game mode settings as well as for other monitor settings.
What makes it perfect for gaming is the inbuilt game modes for FPS games as well as an RTS pre-set mode. The black stabilizer produces dark scenes in an excellent manner, where you will be able to identify hidden items easily while gaming in dark backgrounds. It also employs Dynamic Action Sync to minimize input lag. Hence it is more responsive in fast-paced gaming environments. The Radeon FreeSync stabilizes the frame, which shows moving objects very crisply and clear.
Additional Features:
Height Adjustment: 0-130 mm

Rotation: -90 degrees to +90 degree

s

Tilt: -5 degrees

to +35 degrees

3-Side Virtually Borderless Display

Height / Pivot / Tilt Adjustable Stand

IPS with sRGB 99% color gamut

Highly accurate colors

4K UHD HDR

Peak luminance of 400 nits

OnScreen control – Screen split

Game Mode Setting
Best Samsung Vertical Monitor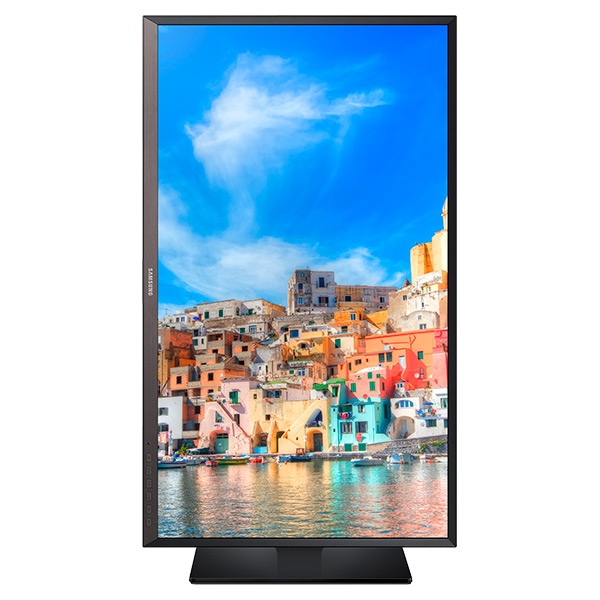 Resolution: 2560×1440
Aspect Ratio: 16:9
Size: 32"
Connectivity: HDMI, Display Port 1.2, USB 3.0 ports, Lan Port, USB Type-C
Samsung is known to create products of standards that surpass its rival products, and the same is true with Samsung SD850 32″ WQHD monitor. Wide Quad High Definition (WGHD) monitor produces images that are 1.7 times more precise than on an FHD display. The monitor comes with a slim metal stand that can be used to rotate the monitor to 90 degrees to use as a vertical monitor. It also provides other adjustment options like height, tilt, and swivel. Compatible with VESA 100 × 100mm, it can be easily mounted on a wall or on a monitor arm.
With this monitor, you will be able to discover the details that you have been missing so far, and it will enhance your viewing experience to an altogether different level. We had an amazing experience with its HDR10 capabilities that produce 1 billion colors brilliantly on the monitor. The AMD FreeSync keeps the refresh rate optimized and in synchronization between the monitor and the graphic card, which makes the fast-motion scenes ultra-responsive and smooth. Due to its eye-saver mode certified by TUV, we were able to work on the monitor tirelessly for hours during night hours, as it protects eyes from over-exposure to harmful blue light. The screen has a Matte finish with anti-glare so that it doesn't reflect back the light behind you.
Additional Features:
300cd/m2 of Brightness

Adjustments for Height, Pivot, Swivel, Tilt

VESA Compatible

Slim metal stand

AMD FreeSync ON

Ultra Responsive and smooth

1 Billion colors and HDR

Eye-saver mode can be enabled

Auto source switch

QHD, 1.7X precise than FHD

LED-backlit LCD monitor

Response time of 5 (GTG) ms

Power Consumption (Max):100 W
Best Asus Vertical Monitor
Resolution: 1920 x 1200
Aspect Ratio: 16:10
Size: 24.1"
Connectivity: VGA | HDMI | Display Port 1.2
This is a power-packed product with optimal dimensions that suit well for almost all vertical monitor objectives. This monitor provides rich connectivity options, which include VGA, HDMI, DisplayPort 1.2, 4 USB 3.0 ports as well as Earphone Jack and Audio-In options. The self-mounting stand offers a great adjustability range which is at par with other monitors, with height, swivel, tilt, and pivot options. It will help you set the monitor at the desired position based on your convenience.
While using ASUS ProArt, we found that it has great display quality, with rich and vivid color reproduction, which is backed by 100% sRGB and 100% Rec. 709 Color Gamut and is verified by Calman. The monitor offers 3 months of free Adobe Creative Cloud subscription, along with ASUS exclusive ProArt Preset and ProArt Palette, which provides several adjustable color parameters and preset modes. The 16:10, which we highly recommend for vertical usage, makes it a perfect choice for vertical setup. The monitor is also a healthier option for your eyes as it comes with an anti-glare screen, blue-light filter, and flicker-free technology.
Additional Features:
Height Adjustment: 0-130 mm

Swivel: -90 degree to +90 degree

Rotation: -90 degree to +90 degree

Tilt: -5 degree to +35 degree

Asus Eye Care Technology

Blue Light Filter

Impeccable color accuracy

100% sRGB and 100% Rec. 709 color gamut

ProArt Preset and ProArt Palette

300 cd/m² (max) of brightness

Response time of 5 ms (gray to gray)

Flicker-Free

Built-In Speakers

Climate Pledge Friendly
Ergonomic Design
Resolution: 3840 x 2160
Aspect Ratio: 16:9
Size: 27"
Connectivity: USB 3.1 Type C, HDMI 2.0 with HDCP 2.2, DisplayPort, and Mini DisplayPort
If you are looking for an optimal display solution for the purpose of gaming, we highly recommend the ViewSonic VP2785-4K monitor, which belongs to the Elite Lineup of monitors from Viewsonic. One of the other great features that got us excited is a built-in KVM switch, which enables it to be connected to multiple PCs using a single keyboard, and mouse, which can be used in split-screen. The powerful USB 3.1 Type-C input port can be used for power supply, data transfer, video, and audio with a single connector. The Viewsonic eye care technology equips the monitor with a blue light filter and a flicker-free viewing experience to combat eye fatigue.
We found this a very efficient and feature-rich display, and one of its unique features is a built-in presence sensor, which saves energy when it is found that the user is not present in front of the screen. The ViewSonic monitors come factory calibrated to maintain color accuracy. The monitor reproduces accurate images with professional color processing using 14-bit LUT & 3D LUT and 4.39 trillion colors. This is a very versatile monitor and can be used for various purposes like office, graphic design, photography, and gaming.
Additional Features:
Height / Pivot / Tilt Adjustable Stand

The smooth palette of 4.39 trillion colors

Three-sided ultra-thin bezel

60Hz refresh rate

Factory Color Calibrated

ViewSonic Wizard CD-Rom

With 100% Adobe RGB and 96% DCI-P3 color coverage

6-Axis Color Enhancement for color adjustments

HDR10 Content Support

Built-in KVM switch connects multiple PCs
Top HP Vertical Monitor
Resolution: 2560 x 1440
Aspect Ratio: 16:9
Size: 27" (also available in 22", 24" and 29")
Connectivity: HDMI, DisplayPort, VGA
The specifications of HP VH240a are made perfectly to use in a vertical setup. With VESA mounting pattern provided in a 100×100 setup, and 4-way adjustability options, you can set it according to your need. The wide viewing angle of 178° makes it very convenient for the user to view the display comfortably in a vertical setup, this feature is very essential in a vertical monitor mode. This IPS LED-backlit monitor boasts 2 million pixels and a whopping 16.7 million colors. The VGA and HDMI ports with HDCP support make it a suitable choice to use as an external monitor with a laptop or use in a multi-monitor setup.
We enjoyed working on this monitor thoroughly and were impressed by the 2 in-built speakers. It has integrated audio speakers of 2 watts per channel that produce excellent sound. We were able to easily connect our Apple laptops as well as other iOS and Windows devices seamlessly using the HDMI port. This HP monitor is built using arsenic and mercury-free material, which makes it environment friendly, and is certified by TCO Edge and EPEAT Silver. The display has a 10M:1 dynamic contrast ratio with a 5ms response time, which makes it highly smooth.
Additional Features:
4-way adjustment (height, pivot, tilt, swivel)

Rotation: -90 degrees to +90 degree

Tilt: -5 degrees

to +30 degreess

100m VESA mounting pattern

Built-in speakers

Thin 3-sided narrow bezels

Ultra-widescreen

Anti-glare, matte finish

5 ms response time

2 million pixels, 16.7 million colors

Climate pledge friendly

Dynamic contrast ratio of 10M:1
Philips Vertical Monitor
Resolution: 3840×2160
Aspect Ratio: 16:9
Size: 27" (also available in 22", 24" and 32")
Connectivity: DisplayPort 1.4, 2x HDMI 2.0, USB-C 3.2 Gen 2 inputs and USB 3.2 hub (x4 ports), audio in/out, and LAN port
The Philips Brilliance 279P1 reproduces remarkably sharp images as it employs UltraClear 4K UHD technology that is known to produce more natural-looking greens, vivid reds, and deeper blues. The frameless design makes it a perfect choice to be used for a multi-screen setup to give you the feeling of using one large display. The IPS panel gives you extra-wide viewing angles of 178/178 degrees, making it possible to view the display from almost any angle. The monitor comes with a Smart ErgoBase stand, which lets you adjust its height, tilt, pivot, and swivel to set up the way you like, in vertical or horizontal mode. It also has 100×100 VESA-compliant brackets at the back panel.
We found this monitor to be very friendly to the eyes due to Philips Flicker-free Technology and LowBlue Mode. It uses smart software technology to reduce harmful shortwave blue light and regulate brightness to reduce flicker. This Philips monitor has EasyRead mode for a paper-like visual experience, which makes this monitor a great choice for the purpose of reading and writing. It has high-end Power Sensors and Light Sensors for optimal energy consumption as well as auto adjustment of brightness depending on the surrounding light. The monitor delivers a refresh rate of 60 Hz on HDMI or DisplayPort. Philips Brilliance 279P1 has inbuilt dual 3W speakers and a single USB-C cable connector which allows for easy, one-cable docking for all your needs.
Unfortunately, we didn't have a picture of Philips Brilliance 279P1 in vertical mode but be assured that it can be used in vertical mode.
Additional Features:
Duo built-in 3W stereo speakers

122% sRGB and 103% NTSC color gamut

UltraNarrow Border – Frameless Monitor

Extra-wide viewing angles of 178/178 degree

LowBlue Mode

Smart ErgoBase stand – Fully Adjustable

Built-in PowerSensor for energy saving

LightSensor auto-adjusts brightness
Portable Vertical Monitor
Resolution: 1920×1080
Aspect Ratio: 16:9
Size: 15.6"
Connectivity: USB-C, Mini HDMI, USB-C Power Supply
We termed this as the best portable vertical monitor. The KYY portable monitor is just a 15.6" monitor which can be easily carried due to its smaller size and lightweight and is a perfect choice to pair it up with your laptop or mobile anywhere you want. It comes with a PU leather cover which doubles as a foldable and flexible stand that allows it to be used in landscape as well as portrait orientation. It makes up for a great gaming and multimedia monitor with 1920*1080 breathtaking viewing quality and HDR technology. It also comes with complete eye protection and has a highly effective blue light and radiation filter and a flicker-free operation. It is ideal for a simple on-the-go dual-monitor setup or an external monitor for your laptop PC or smartphone.
We found this a really powerful monitor with 2 built-in speakers and also has inbuilt support of screen expansion mode as well as screen mirroring mode. It has a refresh rate of 60 Hz, 300cd/m² of brightness, and a contrast ratio of 1000:1, with 16.7 million colors, which simply means a crisp and clear display and excellent video streaming experience.
Additional Features:
Portable – easy to carry

Slim and lightweight – 0.3 inch thick and 1.7lbs in weight)

USB-C Power supply

Plug-and-play in Windows & Mac

Volume control and 3.5 mm audio jack

2 built-in speakers

Full HD 1080P

178/178-degree viewing angles

Durable PU leather and stand

1 cable solution

Compatible with laptops, PCs, smartphones, and gaming consoles

24/7 professional support team
2-in-1 Vertical Monitor from Samsung
Resolution: 1920×1080 FHD
Aspect Ratio: 16:9
Size: 27" (Also available in 22-in and 24-inch)
Connectivity: HDMI, DisplayPort, 2 USB 2.0 ports and 1 USB 3.0 ports
The Samsung FT45 is a perfect monitor that can be used in a vertical setup for personal, professional, or multimedia usage. The FHD IPS display operates at a 75 Hz refresh rate that delivers crystal clear images over a wide range of viewing angles. It is rich in offering connectivity options that include HDMI, VGI, and USB with AMD FreeSync Technology. You will be able to vertically tilt it using the stand that comes with the monitor, or you can mount it on the wall or on a monitor arm. Samsung also offers a 3-year business warranty, which makes your investment more secure.
We found this monitor the best in terms of ergonomics, as it was really smooth and convenient to rotate it and set it at the desired height and tilt angle for the best viewing experience. We used this one extensively in our presentation sessions, as it reproduces the text and images without color shift. The 3 sided bezel-less frame makes it a good choice to use it in a multi-monitor setup. We used it extensively across the day and found that it puts less stress on your eyes due to its high-end Eye-Saver mode. It gives you a flicker-free viewing session and also filters the harmful blue light out of the display. It also has an in-built smart energy-saving technology that saves your electricity bills without compromising on display quality.
Additional Features:
Fully adjustable with tilt, swivel, height, and pivot adjustment

100×100 VESA support

Eye Saver Mode

Wide viewing angles of 178 ̊

Crystal-clear images without color shift

Vibrant color reproduction

3-sided bezel-less frame

Blue-light filter

Eco Saving Plus for energy saving

Refresh Rate: 75 Hz
Why are Vertical Monitors so popular among programmers & streamers?
Vertical Monitors for Programmers: Software programmers and coders have to deal with thousands of lines of codes, and often have to scroll vertically. In a vertical monitor setup, they are able to go through 57% more rows than in a horizontal monitor, which lets them work more and scroll less. A vertical monitor enhances the productivity and performance of programmers, and that is why they are so popular amongst them.
Vertical Monitors for Streamers: All the video and graphic editing tools work really great with Vertical monitors, as they are able to access all the tools easily without scrolling. Moreover, most users view videos on mobile in portrait mode, so they can easily optimize their videos to look good using a vertical screen. Many popular social media platforms like Instagram Reels, and YouTube shorts are made for videos in portrait mode, so a vertical monitor is steadily marching towards being the default screen orientation in the future.
FAQ
What are vertical monitors used for?
They are widely used for mirroring smartphones on a larger display. Other than that, they are highly popular among coders and writers, as a vertical monitor allows them to view and read more rows compared to a horizontal monitor setup. It is also widely used in laboratories to create and view diagnostic reports, and also some games are played better in portrait mode. There are a lot of share traders and financial analysts who prefer to use a vertical monitor setup, as they are able to see a large number of figures and charts easily.
How can I change the orientation of my monitor vertically on the PC?
Go to Display settings of your computer, choose the one that you want to rotate (if there are multiple monitors connected), scroll down to find the orientation menu, and choose portrait. Click Apply Button.
Conclusion
Vertical monitors are gaining a lot of popularity, and based on the nature of your work, you can see if it will be helpful in improving your work efficiency and performance.
We personally believe Dell UltraSharp U27 is the best vertical monitor you can get right now. It has 3840 x 2160 resolution it supports 4k. It's not too big, not too small. 27-inch is the perfect size for a monitor. In our opinion, this is definitely a preference thing.
Another monitor we wanted to recommend to people that move, travel and are on the go often – KYY 15.6-inch. It's so convenient. Pack it in your suite case and boost your productivity from anywhere. That extra monitor does make a difference.
Related Articles:
Best Vertical Mouses
How to Setup Vertical Monitor
Will External Monitor Decrease Your Laptops Performance?
Please follow and like us:
I work from home. To do the best possible job I need the right accessories - the right desk, the right chair, the right keyboard, the right monitor, etc. When I work I want to feel comfortable. I review everything that's related to home desk setup - focusing on Monitors & Keyboards.